Sometimes, things in life start to go wrong. We get a bad grade on an important exam, lose our dream job, or discover that a pigeon has left us a disgusting gift in our favorite shirt. When life is too hard on us, we may feel like the only thing we can do is cry our eyes out. However, we believe that the best remedy for those depressing moments is to look for some funny images on the Internet that can make us laugh. Since we want to plaster a smile on our readers' faces, we've compiled the most hilarious and sarcastic memes we could find on the Internet. After seeing them, we assure you that you'll forget a little about your problems.
We All Need a Vest That Tells the World About Our Unfriendly Nature
While some enjoy making new acquaintances and talking about themselves wherever they go, others prefer to not be bothered with social interactions. Unfortunately, most people don't realize that introverts prefer to be left alone and try to force trivial conversations with them. So, it's no surprise that those individuals would rather have a vest that tells the world about their unfriendly nature, just like the lovely dog we see in this picture.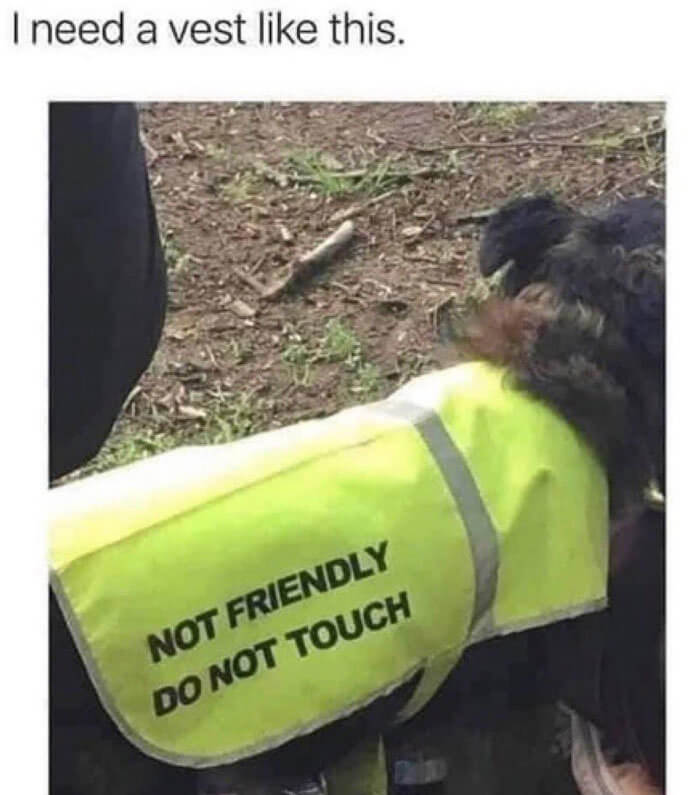 In our opinion, introverts should start getting t-shirts that express how they feel when they talk to strangers. Perhaps that'd be enough to avoid some uncomfortable situations on the street and other public spaces.
Perhaps We Resemble Chickens More Than We Think
Whether you've owned a rooster or not, you probably know that these animals start their day screaming. According to biologists, male chickens apparently have an internal clock that helps them anticipate sunrise. Every morning, they sing to let their herd know that they should wake up and start their routines. Now, our species doesn't need to engage in that behavior. Still, most of us would love to scream at the top of our lungs every morning.

Image courtesy of Twitter / @niyeeei_
After all, our routines are pretty stressful. We need to find a way to blow off some steam before facing the tough challenges of a new day, don't you think?
Everyone Should Be Careful With Their Facial Expressions
Much like words, facial expressions are an essential part of human communication. A person's face tells you a lot about their thoughts and feelings, even when they aren't saying anything. However, controlling our expressions isn't as easy as most people make it seem. We sometimes forget that there are social situations where we shouldn't show certain emotions. Thus, we end up speaking our minds with our faces without realizing it.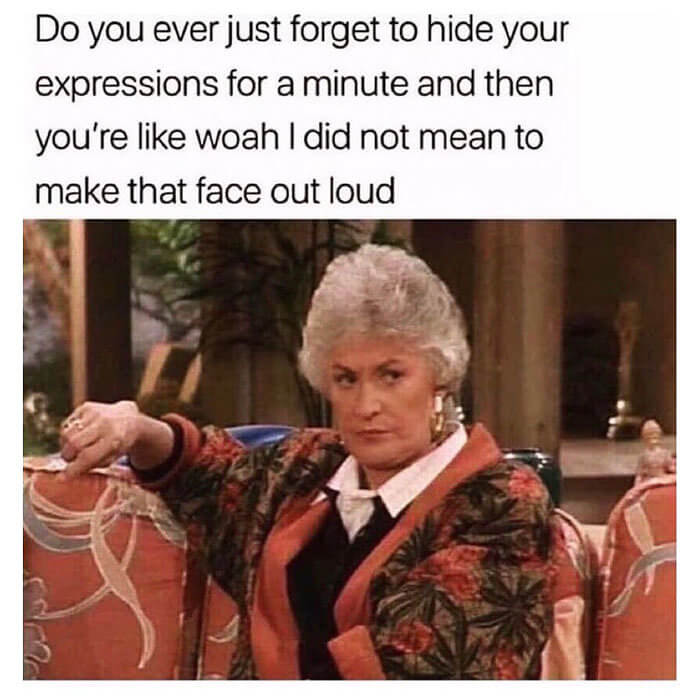 Image courtesy of Twitter / @DrZellerSports
Dissimulating our thoughts and feelings may seem complicated. Still, it's a necessary skill. Otherwise, we'd probably get in trouble every time someone says something we don't like or disagree with.
There's Nothing Wrong With Having More Pajamas Than Clothes to Go Out
Over the past few years, people have begun to spend more time indoors. Many of us work from home, so we don't have to go to the office daily. On top of that, we enjoy hobbies that don't involve heading outdoors, such as baking cookies, assembling jigsaw puzzles, or playing video games. Therefore, it's only natural that we'll have more t-shirts to sleep in than tops to go out.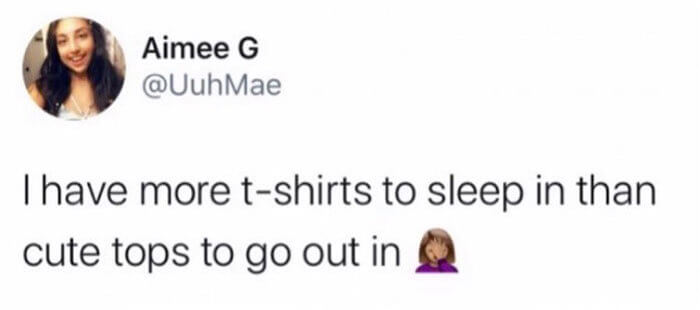 Image courtesy of Twitter / @UuhMae
To be honest, we believe that people should be able to walk down the street in pajamas or onesies without being judged. Life would be much easier if we could do that.
Some Exes Look Like Ugly Demons
Unless you're the luckiest person on the planet, you probably went through an awful relationship at least once. Nothing is more heartbreaking than falling in love with someone who hurts you, no matter what you do about it. The Internet is full of memes about terrible exes that mistreated their former partners. Still, we believe that this one takes everything to the next level by comparing an ex to an ugly demon.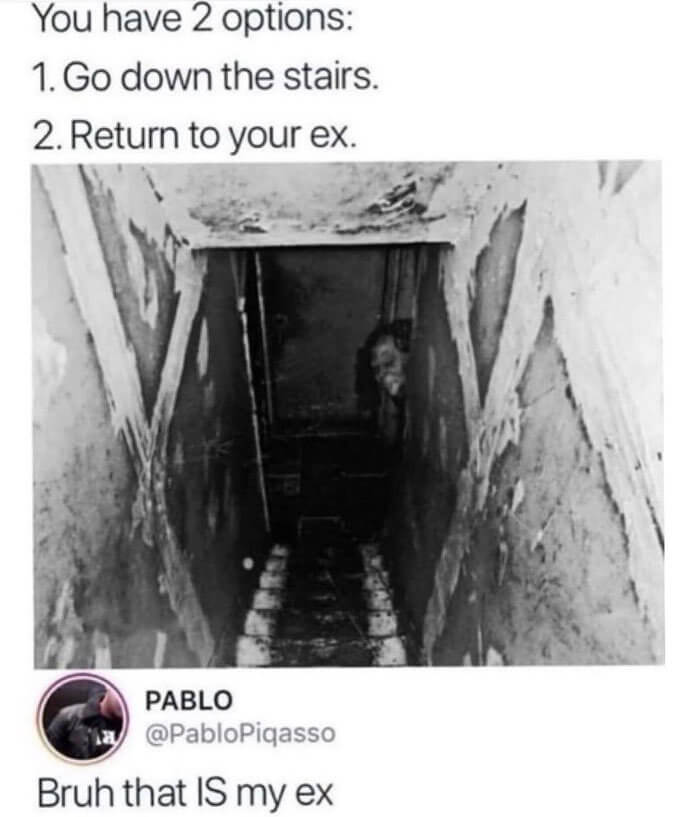 Image courtesy of Twitter / @CarmsB82
We know nothing about the story behind this hilarious tweet reply, but one thing is for sure: the person who posted it must've had a terrible experience with their ex.
The Best Way to Handle Stressful Situations Is by Sleeping
Finding the right coping mechanism for stressful situations is different for everyone. Some people like to go for a walk, others prefer to read a book or watch a movie, and we prefer to take a nap. For some reason, we feel better when we wake up. It's like all the stress leaves our bodies for a while. Thus, we can relax and forget about our frayed nerves and stomach sickness.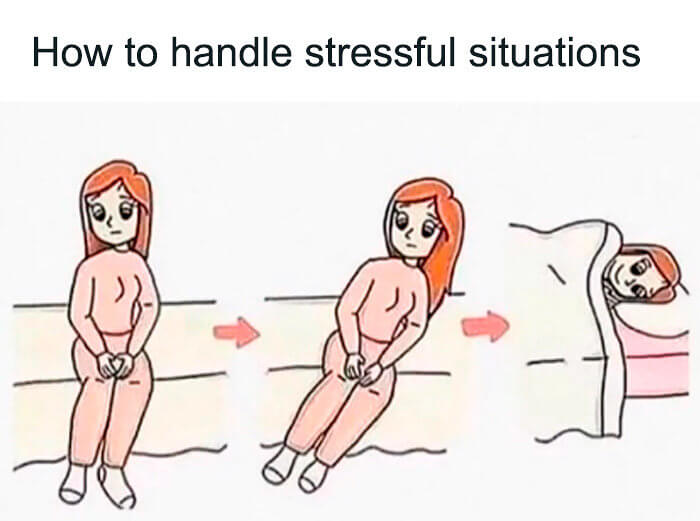 Image courtesy of izismile.com
Nonetheless, we can't escape from our problems forever. It's important to gather courage, face any stressful situation, and solve it as soon as possible so that we lead happier lives.
No Matter What You Think, You Aren't a Real Adult When You Turn 20
When we were kids, we believed that any 20-year-old was a grown-up adult with little to no problems. From our childish and innocent perspective, we thought that people always had their life figured out at that age. However, now that we're young adults, we realize that most of us don't even know what we're doing or what to expect from life because we still have a long way to go.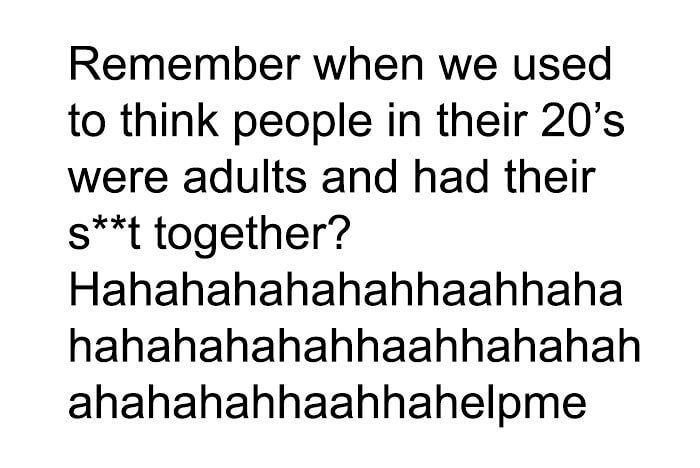 Image courtesy of barnorama.com
Fortunately, being 20 years old means that you're still young. You have a lot of time to explore and experience the world until you discover what you want in life.
Some People Can't Help but Bring Alcohol With Them Wherever They Go
As you grow older, it becomes impossible to avoid attending certain social events. For example, if someone sends you an invitation to their wedding, you can't say no. So, your only option is to find a way to make the situation a little bit more interesting. In this case, the partner of the person who posted this picture on social media thought that it'd be a good idea to take vodka lemonade to the event.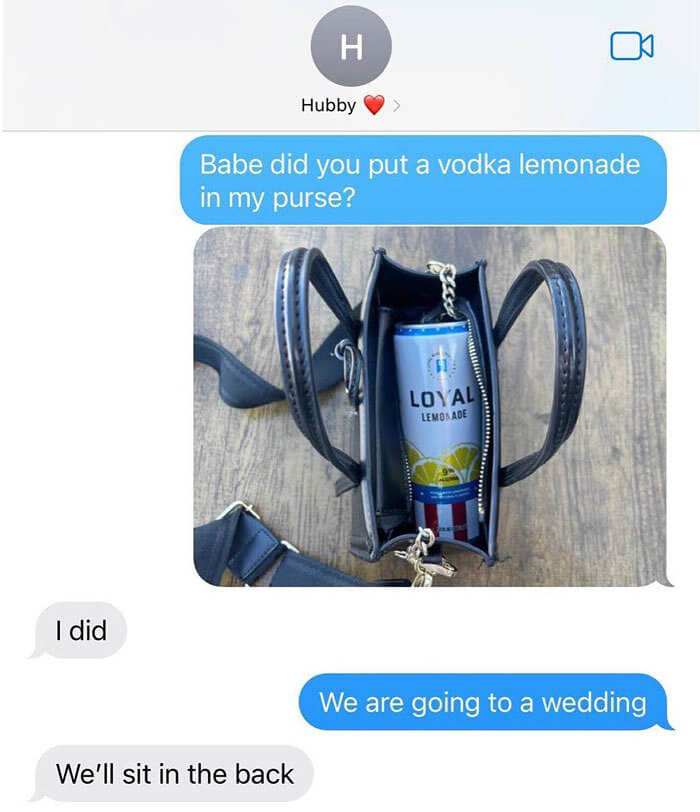 Image courtesy of thechive.com
To be honest, we don't think that's the best way to make a wedding less boring. Perhaps they should try socializing or making new friends instead of drinking to pass the time.